Textarchiv
exotica

politics

klangkunst

spirits

science

words & voices

geräusche

regions

film

radiokunst

electronics

other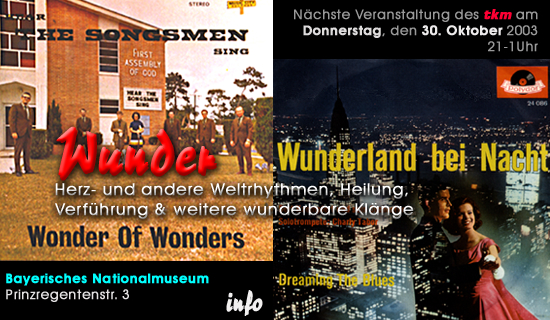 Die Wunder - Nacht der verlorenen Musik präsentiert eine magical mystery tour von Alice in Wonderland (oder dem Wizard of Oz) zur Büchse der Pandora, zu Heilern und Verführern, Musikern mit und ohne Sendung.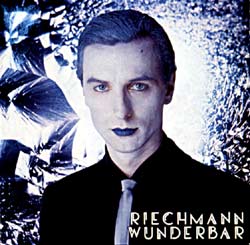 Musik ohne Genreschranken, merkwürdige Klänge, Stücke über Wunder, wunderbare Stücke über alle Arten von Wundern. Von Wundertaten zum Wirtschaftswunder und anderen miracles, Herztöne und zu Herzen gehende wonderful records ...
Immer in Erinnerung an Albert Ayler : music is the healing force of the universe.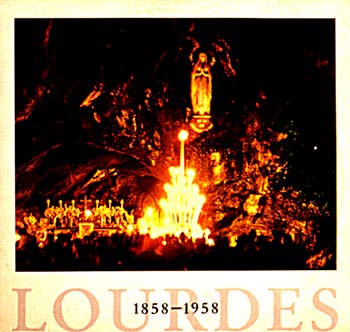 aus der Serie Cover of the week, heute:
1: Lourdes 1858-1958
Deutsche Grammophon 45445, 1958
A: Klingendes Panorama der Feierlichkeiten des 11.2.1958
B: Glockengeläute der bayerischen Wallfahrtskirchen (Liste auf Cover), der Kirche zu Betlehem und des Petersdomes, Rom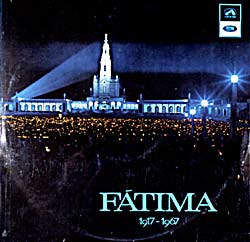 2: Fátima 1917-1967
A Voz do Dono SELPP31003, 1967
Fátima. Deutsche Fassung


Weitere Pilgerplatten im Klangmuseum:
Ein Pilgertag in Lourdes. Single. Christophorus-Schallplatte CY75071
Lourdes 1858-1958. Klingendes Panorama der Feierlichkeiten des 11.2.1958. 10inch. Deutsche Grammophon 45445 1958
Lourdes - Deutsche Pilgerfahrt. Single. Agorila PM45-38 France
Lourdes - Pilgerfahrt. Single. Agorila AG60.34 France
Oscar Schellenbach: Lourdes - Mysterium der Wunder. LP. Schellenbach institut (Seelephonie)
Lourdes. Prozessionsgesänge und -gebete. 10inch. Deutscher Lourdes-Verein Köln
Aus der Gebetsstätte Maria vom Sieg in Wiggratzbad. Single. Iton It1746
Wallfahrt zum heiligen Bruder Klaus. Single. Christophorus-Andenkenschallplatte CY75081
Wallfahrt nach Andechs. Single. Christophorus-Andenkenschallplatte CY75096
Die Mariazeller Wallfahrt. Single. Christophorus-Andenkenschallplatte CY75082
aus der Abteilung rare, strange & bizarre, heute: a) Verführer
Das Temporäre Klangmuseum hat in den letzten Jahren viele merkwürdige Tonträger vorgestellt, ein Teil von ihnen ist im Internet archiviert. Wir stehen auf dem Standpunkt, daß mit dem Niedergang des Vinyls auch ein bestimmter Teil unserer Kultur verschwindet, der normalerweise kaum als der Aufmerksamkeit oder gar Bewahrung für Wert erachtet wird. Denn während jedes bewegte oder unbewegte Bild (Foto, Film, Gemälde, Video etc.) wie selbstverständlich als Teil eines größeren Erbes betrachtet wird (oder zumindest die Möglichkeit einer ästhetischen Rezeption jederzeit in Betracht kommt), wird alles was mit Klängen zusammenhängt in der Regel nicht beachtet. Damit gilt z.B. auch die Schallplatte (und Verwandte) nicht als eigentliches Kulturgut.
Das bedeutet natürlich nicht, daß wir unbedingt mit einer Art Haltung der Nostalgie jede Schallplatte 'retten' möchten. Unsere Erfahrung zeigt nur, daß in diesem Zusammenhang viel Interessantes, für die jeweilige Zeit und darüber hinaus Aussagekräftiges und Bewahrenswertes Material unterzugehen droht.
Eine der grundsätzlichen Postulate des Temporären Klangmuseums lautet, daß es so gut wie keine gespielte, gesprochene oder sonstwie akustisch formulierte Aussage gibt, die nicht irgendwann einmal ihren Weg auf eine Schallplatte gefunden hat. Ob es sich um Musik, Geräusche oder Reden handelt, um künstlerische Auseinandersetzungen (was auch kaum bekannt ist: man kann mit nur wenig Übertreibung behaupten, daß fast jeder bedeutendere Künstler der zweiten Hälfte des 20. Jahrhunderts eine Schallplatte gemacht hat) bis hin zu charmanten Absurditäten wie eines unserer Lieblingsbeispiele, der Schallplatte mit der man seinem Papagei das Reden beibringen kann. Kein Klang hat je vor den vertieften Rillen im (meist) schwarzen Vinyl halt gemacht.

b) I wonder
Natürlich wurde die Schallplatte auch für den Transport politischer, religiöser oder sonstwie weltanschaulicher Überzeugungen benutzt (siehe hierzu z.B. Stimme der Wissenschaft). Aus der Vielfalt der hier existierenden Platten haben wir im weiteren Zusammenhang unseres heutigen Themas bereits früher Exemplare vorgestellt wie z.B. Walther Eidlitz, Der Guru. Der geistige Meister in Indien oder Hanussen, Telepathie (das ist nicht der 30er Jahre 'original'-Hanussen, dieser hat allerdings auch einige sehr seltene Schellacks aufgenommen, sondern ein 60er Jahre Epigone) oder auch The final Houdini seance. With the actual voice of Mrs. Harry Houdini. Zum Klangmuseum neu hinzugekommen sind außerdem noch zwei Platten mit geheimen Aufnahmen der Mazdaznan Sekte (Mazdaznan - Lieder, 1964 und Mazdaznan - Ode an die Gottheit, Mazdaznan Lehrheim Herlsau 1965).

c) The dark side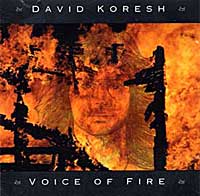 In die (sehr) dunkle Seite dieser Kategorie gehören zwei Tonträger, die wir hier vorstellen, aber vielleicht eher doch nicht spielen werden: David Koresh, Voice of fire und He's able. People Temple's Choir.
Die Schallplatten die Charles Manson aufgenommen hatte, bevor er mit einigen seiner Anhänger das Blutbad anrichtete, dem unter anderen auch Roman Polanskis Frau Sharon Tate zum Opfer fiel,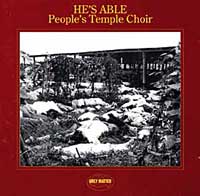 gehören zu den berühmt-berüchtigten Sammlerstücken der dunklen Seite. Weniger bekannt dürfte sein, daß auch Massenverführer und -mörder wie David Koresh und Jim Jones Aufnahmen gemacht haben. Beide sind zu kurz-zeitiger Berühmtheit gelangt, weil sie ihre Anhänger zum Massenselbstmord angestiftet und auch gezwungen hatten.
Das schaurigste Tondokument hierzu dürfte das Tonband sein, das unter dem 'Thron' von Jim Jones in Jonestown die grausamen Ereignisse dokumentierte.
Die CD People Temple's Choir ist die Wiederauflage einer von der Jones-Sekte herausgegebenen Schallplatte mit Liedern, ein Extratrack besteht aus einem kurzen Ausschnitt des eben erwähnten Tonbandes. Voice of fire besteht ebenfalls aus einigen von Koresh selbst gesungenen Liedern und vor allem eine seiner berüchtigten Predigten.
David Koresh, Voice of fire, Otho CD 1993 (priv)
He's able. People Temple's Choir, Jim Jones, CD Grey Matter

Playlist
Abilities inc. fifth annual report - 1957, A recorded portrait. Henry Viscardi jr., president, in conversation with Arnold Michaelis, 1957, Record Communications inc.
Amon Düül, Paradieswärts, 1970, ohr
L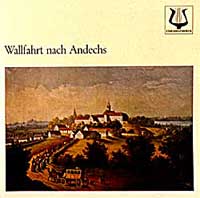 es Baxter, The sacred idol, Capitol
Carillon, The Luray singing tower, Joy to the world, RCR mono
Asha Bhosle, West India Company, Ave Maria (Om ganesha), 1984, London Rec
Arthur Blythe, Blythe spirit, Misty, Spirits in the field, Just a closer walk with thee, 1981, CBS/Sony
Lester Bowie, The 5th power, 1978, Black Saint
Glenn Branca, The Mystery, Symphony no. 8, Symphony no. 10 1994, Atavistic
Glenn Branca, Symphony no6: Devil choirs at the gates of heaven, 1989, Restless / Blast First
Banda Ionica, Passione, Musiche delle processioni del Sud Italia, 1997, Dunya records felmay
Gavin Bryars, Jesus' blood never failed me yet, Obscure no1
Capilla Clásica Polifónica del F.A.D., O magnum mysterium, Regal
Don Cherry, Eternal rhythm, 1968, MPS
Alice Coltrane, Journey in Satchidan-anda, Isis and Osiris, 1970, MCA
Lol Coxhill, Cou$cou$, West lawn dirge / Just a closer walk with thee, 1983, Nato
The bells of St.Mary's, The cmplete broadcast CBS radio 6.10.1947 sponsored by Camel, Sandy Hook records
Aleister Crowley
Blind Gary Davis, At 'Al Matthes' Toronto, If I had my way, Document Records 1988
The legendary Reverend Gary Davis, New blues and gospel, I heard the angels singing, Magnum / Blue Moon
The great concert of Eric Dolphy, The prophet, reissue Prestige 1974
David Dunn, Angels and insects, Tabula Angelorum Bonorum 49, What next / Nonsequitur 1992
Bob Dylan, Slow train coming, 1979, CBS 86095 1979
Reverend Lonnie Farris, Wondering child mother is dead, 1962, Eden Records
Flashbacks Vol. 5: Gospel and Prayers, Hallelujah Music, Sister Rosetta Tharpe: Strange things happen every day, Trikont 2000
Diamanda Galas, You must be certain of the devil, Let's not chat about despair, 1988, Mute CDStumm
Mario v. Galli, Wandelt euch durch neues Denken, Schlußkundgebung beim 80. deutschen Katholikentag Stuttgart 1964, harmonia mundi
Heilende Rhythmen. Heilgesänge der Naturvölker aus aller Welt, Beiträge zur Geschichte der Medizin, Folge 2, Onondago Irokesen, Bayer 1959
- Folge 6, Xhosa (Zulu) Südafrika, Bayer 1961
- Folge 3, Geisterbeschwörung in Boralesgamuwa (Ceylon), Bayer 1961

Sarah Hershberg, Women of the old testament, F.E.L.Record
Charlton Heston reads from the life of Christ, according to the gospels, Vanguard
Charlton Heston reads 'Out of Egypt', from the Five Books of Moses of the Holy Bible, Vanguard
Impulse, Mach aus Fremden Freunde, 1979, Musikverlag Ludger Edelkötter
Indian love rites, Durga puja and kali puja in Calcutta, 1985, Folkways Records
Om shanti om, Gesänge am Ganges, Schlangenbeschwörer, Pit Junio
Kecak in the forest of anima, The choral spectacle of Singapadu village in Bali, Victor 1987
Gendang Karo - Nordsumatra, Trance - und Tanzmusik der Karo - Batak, Museum coll. Berlin
Blind Willie Johnson: His story told, If I had my way, Dark was the night cold was the ground, XTRA 1970
Henry Kaiser, Charles K. Noyes, Sang-Won Park, Invite the spirit, 1983, OAO Celluloid
Kang Tae Hwan, Tokebi, 1991, JVC
Klaus Kinski, Spricht Goethe, Balladen, Gedichte, Monologe, Der Totentanz, Amadeo
Klaus Kinski, Klaus Kinski, Friedrich Nietzsche. Gedichte, 1961-1962, Deutsche Grammophon Wort
Kronos Quartet, White man sleeps, Ben Johnston: Amazing grace (1973), 1987, Elektra / Asylum / Nonsuch
Hat das Leben einen Sinn?, Ist dein Leben voller Schuld? Herr führe Du, HT 8
Pater Leppich, Die Zehn Gebote - heute, Quadriga
Birth of a baby, The documentary recording of a birth, Capitop H-480
Natural childbirth, A documentary record of the birth of a baby, Westminster recording sales corp 1957
Georg Volk, Liebe und Ehe - Zeugung und Geburt, Vortrag eines Arztes vor Jungen, Christophorus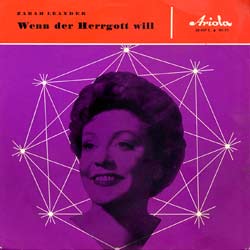 Karl Heinrich Bauer, Die Gesundheit des Menschen im Wandel der Zeit, Die Stimme des Arztes, 1963
Karl Jaspers, Die Idee des Arztes, Der Hippokratische Eid. Griechisch und Deutsch gesprochen von Wolfgang Schadewaldt, Die Stimme des Arztes, 1953
Myokardinsuffizienz - Koronare Herzkrankheit, Thiemann Arzneimittel
Dr. med H.H. Wolter, Auskultationsbefunde des Herzens
Eberhard Schaetzing, Die Hypnosetechnik, Text und Schallplatte nur für ärztlichen Gebrauch, 1964, J.F.Lehmanns Verlag
Suggestiv-Entspannung, Gesundeit - Harmonie - Erfolg, Mediton
Melancholie in der Musik, Eine Dokumentation mit Musikbeispielen aus drei Jahrhunderten
25 Jahre MIVA, Motoren im Dienste des Evangeliums und der Nächstenliebe, Geschichte, Leistungen und Würdigung der Österreichischen Missions-Verkehrs-Arbeitsgemeinschaft, 1975, Dokumentation unserer Zeit
Phil & Brenda Nicholas, More than music, 1990, A&M Command Records
Nusrat Fateh Ali Khan en concert à Paris, 1986, Ocora
I papi del secolo, Le voci di Pio XI (1938), Pio XII (1958), Giovanni XXIII & Card. Montini (1962), Paolo VI (1964), 1938-1964, Le voci storiche
Prayers from hell, White Gospel & Sinners Blues 1927-1940, Dorsey And Beatrice Dixon: Shining City Over The River, The Carter Family: It Is Better Farther On, Trikont 1999
Bells of Archangelsk, 1987, Melodija
Chimes and folk songs of Russia's 'Golden Ring', Russian Disc 1991
Joseph Spence, Glory, Old time religion, Rounder 1990
Sebi Tramontana, Il giorno del santo, 1992, wind 12 (priv)
Tuva, Voices from the center of asia, Smithsonian Folkways 1990
Kazutoki Umezu, Shin myong, JVC Zen Victor 1992
Den lieben Tesarik's, von unserem grossen Tag, private LP-recording of a wedding ceremony, 1962
Walther Eidlitz, Der Guru, Der geistige Meister in Indien, Discophon
Yogakrisnanda, A voz do guru, Meditações com Yogakrisnanda, Disco é cultura Brasil
Der innere Meister, Eine Selbstinitiation in höheres Bewusstsein, Mediton
Rev. Paul Solomon, The spark of life, A meditation lesson, priv
Karl Rahner, Tod und Auferstehung, Ansprachen zum Karfreitag und zur Osternacht, Christophorus
The Songsmen, Wonder of wonders, Hear the Songsmen sing, 12 christian songs, Music city records
Henry Kaiser, It's a wonderful life, 1984, Metalanguage
Riechmann, Wunderbar, 1977-78
Hazy Osterwald, Die Hazy Osterwald-Show, Wunderbar, Heliodor
Zarah Leander singt Lieder der Leidenschaft, Wunderbar, Fiesta Rec
Zarah Leander , Ich weiß es wird einmal ein Wunder geschehn'
Fred Astaire & Adele Astaire, 'S Wonderful, 1928
Johannes Rediske, Rediske spielt auf, 's wonderful, Bertelsmann
Hildegarde, A souvenir album, Wunderbar, It's a big wide wonderful world, Decca
Spannung Ent-Spannung, What a wonderful world, CBS Special Products
Stay, o guests from afar, Sinkiang is just wonderful, China Record Company
Sammy Davis Jr., 'Mr. Wonderful' sings, Brunswick 10108
Bruce Low, Stardiskothek, Überall ist die Welt so wunderschön, Ariola
Hast du Worte?, Als die Instrumentals sprechen lernten, Lonny Killner: Wunderland bei Nacht, 1958-1971, Bear Family
Oscar Peterson, The way I really play, Alice in wonderland, MPS
Jefferson Airplane, White Rabbit
Mark Andrews and his Orchestra, Drifting and dreaming, Wonderland by night, Compose Records
Bert Kaempfert, Wunderland bei Nacht, polydor 24086
Rudolf Schock, Es muß eine Wunderbares sein (Liszt), EMI
Frank Chacksfield and his orchestra, Waltzes to remember, Wunderbar, London
Drafi Deutscher, Drafi!, Wunder, Royal Sound
Die wunderlichen Träume des Herrn Wirklich, Eine Super Stereo Demonstration, Philips
Otto Reutter, Ick wunder mir über jarnischt mehr, In 50 Jahren ist alles vorbei, 1930
Mina, Heisser Sand, Wenn du an Wunder glaubst, 1962-1973, Bear Family
Wenn der Sommer kommt, Melitta Berg: Wie ein Wunder, 1957-1961, Bear Fam.
The Lovin' Spoonful, John Sebastian songbook vol.1, Do you believe in magic?, Kamasutra Records 1967
Environments. The magic of psychoacoustic sound - disc 10, English meadow - Night in the country, Atlantic Syntonic research series 1979
Sun Ra, The place of the five points, West end side of magic city, Saturn
Terry Riley, The harp of new albion, The magic knor waltz, 1986, Celestial Harmonies
The 50 Guitars of Tommy Garrett, El hombre, Magic trumpet, Liberty LSS-14042
Ennio Morricone, Exorcist II: The heretic, Rite of magic, 1977, Warner
The Motown sound, vol.9, A collection of 16 original big hits, My baby must be a magician, Motown 1968
Harry Hermann, Music for cards, conversation and cuddling, It must be magic, Decca
Art Ensemble Of Chicago, Urban bushmen, Bush magic, Urban magic, ECM 1982
Charlie Thomas & The Drifters, Greatest hits live, This magic moment, ARC Records 1986
Around the world with the Chipmunks and David Seville, Switzerland: The magic mountain, 1960, Liberty mono
The Ananda Shankar And His Orchestra, 2001, Universal magic, 1984, Shiva
Vickie Henderson und ihr Orchester, Broadway tanzt, Magic moments, Varieton
Martin Denny, Ein Hauch von Herz, Party-Musik im Waikiki-Stil - Tanz in der blauen Stunde, Magic is the moonlight, HörZu Electrola
Sidney Bechet, Petite fleur, That old black magic, Mode
André Previn, Previn at Sunset, That old blue magic, Black Lion
Esquivel and his orchestra, Other worlds other sounds, That old black magic, 1958, RCA-victor
Chuy Reyes, Cocktail music for dreaming and dancing, That old black magic, Capitol
Pink Floyd, Ummagumma, A sucerful of secrets, 1969, EMI
Captain Beefheart, Top secret, 25th century quaker, reiss Breakaway 1983
Burnt Friedman & Jaki Liebezeit, Secret rhythms, 2002, Nonplace
Grover Washington jr, A Secret Place, 1976, Motown
Pharoah Sanders, Karma, The creator has a masterplan, Light of love, 1969, impulse
Joni Mitchell, Mingus, God must be a boogie man, 1979, Asylum
Roland Kirk & Ira Sullivan, Introducing Roland Kirk, Our love is here to stay, Chess Green Line
Sun Ra, Cosmos, The mystery of two, 1976, Cobra
Sun Ra, The sun myth, The heliocentric worlds of sun ra II, 1965, reiss.Happy Bird
The Cecil Taylor Quartet, Looking ahead!, Luyah! The glorious step, 1959, Contemporary
Gary McFarland, Requiem for Gary McFarland, God only knows, Salvation army rag, 1972, Cobblestone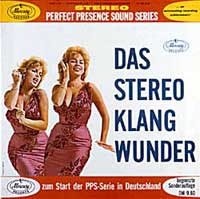 Korla Pandit, The Genie of the keys, Trance dance, Exotica 1997
Lee Scratch Perry and Friends, Open the gate, Babylon falling, Mistry Babylon, Leroy Sibbles: Garden of life, 1969-1974, Trojan Perry 1989
Son House in concert, Judgement day, Blue Moon Records 1984
Adrian Sherwood, Pay it all back Vol.III, Alan Pillay. Spirit soul, 1991, ON-U
Masami Shinoda, Compostela, Dein ist mein ganzes Herz (Lehar), 1990, puff up
Lonnie Liston Smith, Astral travelling, Rejuvenation, 1973, Flying Dutchman
Lonnie Liston Smith, Visions of a new world, 1975, Flying Dutchman
SXL, Into the outlands, 1987, Enemy
Bud Powell, The genius of Bud Powell, All god's children got rhythm, 1949-1951, Verve Polydor 1976
Abbey Rader - Marc Levin Duo, Songs of street and spirit, God was on tv last night, 1982, Sweet Dragon Records
Schroeder, Live in Tokyo, So ein Tag, so wunderschön ..., 1980, Trikont
Yma Sumac, Legend of the sun virgin, EMI Capitol
Mystery trains, 1930-1980, Rounder Rec
Stevie Wonder, Looking back, I'm wondering, 1962-1971, Motown
Parliament / George Clinton, The clones of Dr.Funkenstein, 1976, Casablanca Records
Bata Illic, Schwarze Madonna, 1973, polydor
Electra, Die Sixtinische Madonna, 1980, Amiga
Die Bremans, Liebe, Musik und Schnee, Ave Maria no morro, CBS
The Ephlats, Shiny & new, Maria, 1967, The Ephilats of Williams College, private
Marvin Gaye, What's going on, 1971, Tamla Motown
Friedrich Gulda, It's all one, 1970, Basf MP
Friedrich Gulda, The long road to freedom, 1971, Basf MPS
Bruce Haack, Hush little robot, Incantation, QDK Media
Holger Czukay, Der Osten ist rot, Träum mal wieder, 1984, Virgin
The fabulous arrangements of Tommy Dorsey in hi-fi, Satan takes a holiday, Decca
Barney Kessel, Shelly Manne & Ray Brown, Poll winners three!, Minor mystery, 1959, OJC reissue
Nico
The aerial #1 winter 1990, Loren Mazzacane & Suzanne Langille: Haunted house (L. Johnson), nonsequitur / the aerial 1990
Albert Ayler, I grandi del jazz 12, Ghosts, 1964
Les Baxter, Cry of the banshee - Edgar Allan Poe suite, 1972, Citadel records Varese Sarabande
Captain Beefheart & The Magic Band, I scream for crow, The host the ghost the most holy-o, The 1010th day of the human totem pole, 1982, Virgin
Bernard Herrmann, Torn Curtain, The classic film scores of Bernard Herrmann, The ghost & Mrs. Muir: Main title - Finale, 1995, Silva
Das Stereo Klang Wunder, Zum Start der PPS-Serie in Deutschland, Mercury Records Perfect Presence Sound Series
Stereo - What a wonderful sound, Fantastic instrumentals 4. Folge, Hansa Club