Textarchiv
exotica

politics

klangkunst

spirits

science

words & voices

geräusche

regions

film

radiokunst

electronics

other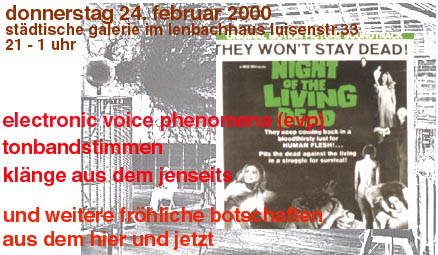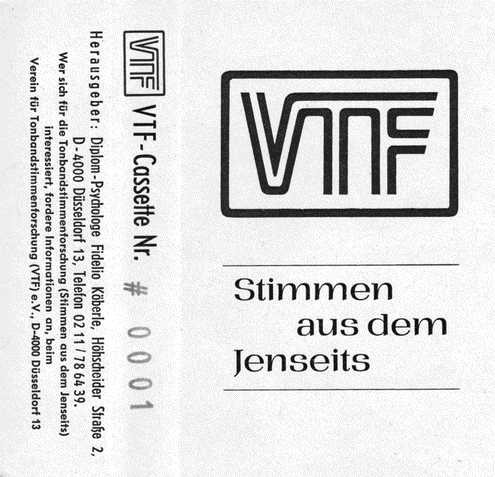 EVP (ELECTRONIC VOICE PHENOMENA)
Tonbandstimmen, Klänge aus dem Jenseits und andere fröhliche Botschaften aus dem Hier und Jetzt.
Zu allen Zeiten haben Menschen versucht, auf irgendeine Weise mit Verstorbenen in Kontakt zu treten. Sei es, um sich zu vergewissern, daß es überhaupt weitergeht, oder einfach nur um zu erfahren, ob es den Verwandten gut geht. Oder um sich einen Rat zu holen, gegen Krankheit oder allgemein für die Zukunft. Zu allen Zeiten haben Menschen auch Stimmen gehört, Stimmen, die nicht ohne weiteres lokalisierbar sind, im Kopf entstehen, manchmal freundlich, manchmel bedrohlich, aber stets real.
Und zu allen Zeiten hat man versucht, Techniken zu entwickeln, um mit dem Jenseits in Verbindung zu treten. Ob mit Hilfe von Trancetechniken, oder durch Séancen, Beschwörungen und Hypnose, immer wieder wurden Wege der Kommunikation gesucht. In den 30er Jahren ortete das schwedische Militär merkwürdige Stimmen auf ihren Funkfrequenzen, tat diese jedoch ab als Störsignale der Nazis. Nach dem Krieg fand man dann heraus, daß es keine derartigen Signale gegeben hatte, das Rätsel blieb ungelöst.
Bereits einige Jahre früher war Thomas Alva Edison davon überzeugt, irgendwann einen Apparat ähnlich einem Phonografen konstruieren zu können, mit dessen Hilfe Tote gehört werden könnten.
In den 50er und 60er Jahren schließlich erschloß sich mit der Popularisierung der Tonbandtechnik ein neues Feld. Radiosignale wurden aufgenommen, dazwischen wurden merkwürdige Signale entdeckt, die nicht zu den Radiosignalen zu gehören schienen, und als Botschaften aus dem Totenreich interpretiert wurden. Bis heute scheint der Ursprung dieser Signale unklar, Interferenzen, Störgeräusche, unbekannte Sender, oder Botschaften ...?
Heute also ein Blick unter anderem auf die Tonbandforscher, auf Geisterseher, Hypnotiseure und andere mit dem Geisterreich Kommunizierende. Dazu Musik für die Toten, z.B. Trauermärsche. Aber dazu gehören natürlich auch als Ausgleich fröhliche Botschaften und Musik aus dem Hier und Jetzt. Keine Trauerfeier sondern ein tkm-Klangfest.
---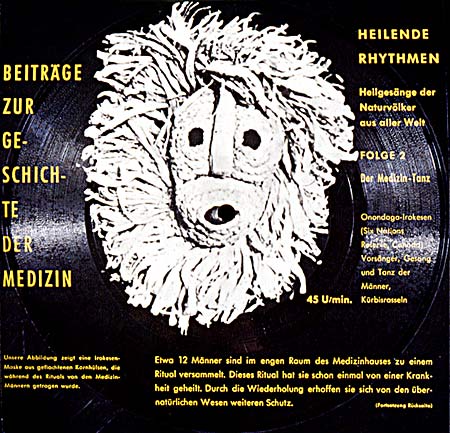 The ancient Greeks heard voices. The homeric epics are full of instances of people guided in their thoughts and actions by an internal voice to which they respond automatically. This suggests a people ... not fully exercising what we would consider free will or rational judgement.
As with most of us, there is a conversation going on in their heads, but it is not with themselves. Jaynes calls this distant mental landscape the 'bicameral mind', and claims that, prior to the transition period of the Greeks, all ancient cultures were not fully conscious as we know it. In other words they possessed many gods.
Today we are suspicious of persons exhibiting such behaviours, forgetting that the term 'hearing' refers to a kind of 'obedience' (the Latin roots of the word are ob and audire, or 'to hear facing someone') ...
Bill Viola, The Sound of One Line Scanning


Aus der Serie 'Meine Lieblingsplatte' heute: The final Houdini seance. With the actual voice of Mrs. Harry Houdini
und:
Heilende Rhythmen. Geisterbeschwörung in Boralesgamuwa (Ceylon)
Wieder ein Beispiel aus der raren Serie Heilgesänge der Naturvölker aus aller Welt, herausgegeben als Werbeplatte der Bayer werke Leverkusen, und verschickt als Klangpostkarte an die Ärzteschaft (1961).


Playlist
Verein für die Tonbandstimmenforschung: Stimmen aus dem Jenseits
Michael McClure: Ghost tantras
The ghost orchid. An introduction to Electronic voice phenomena (PARC - The parapsychic acoustic research cooperative)
Disinformation: R&D2
Aleister Crowley: The 1910-1914 wax cylinder recordings
David Koresh: Voice of firePrayers from hell
White gospel & sinners blues 1927-1940
Material & William S. Burroughs: Seven souls. The tibetan book of the dead
Banda Ionica: Passione. Musiche delle processioni del Sud Italia
Christine Baczewska: Day of the dead
Annea Lockwood: Thousand year dreaming
Beyond life with Timothy Leary
M.J. Harris & Martin Bates: Murder ballads
R.I.P. Hayman: On the way ...
Hanussen: Telepathie
Jliat: The ocean of infinite being
Column One: Unrealizer
Mesmer
Dead and Gone: Trauermärsche und Totenlieder
How to use your tape recorder

Musik von Ryoji Ikeda, Pole, Sebi Tramontana, DJ Spooky: Galactic funk, Francisco Lòpez, Otto Luening & Vladimir Ussatchevsky: Tape recorder music, Die Tödliche Doris, Allen Ginsberg, Quintron, Curd Duca, Eric Dolphy, Musik aus den Filmen Night of the living dead, Blacula, Rothko, Faruk Green, Gak Sato, Oval, Pharoah Sanders
u.a.
an der Kopfhörerstation: Vox Zombie. Wir hören die Stimmen der Toten. Ein Hörspiel von Walter Filz mit dj Kalle Laar