Textarchiv
exotica

politics

klangkunst

spirits

science

words & voices

geräusche

regions

film

radiokunst

electronics

other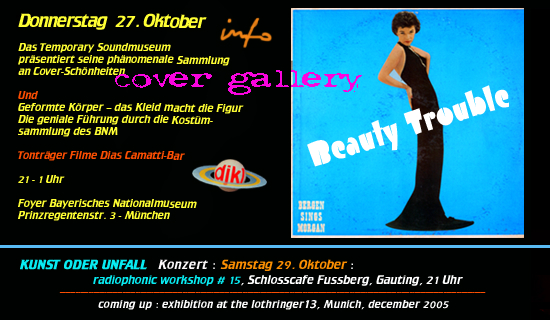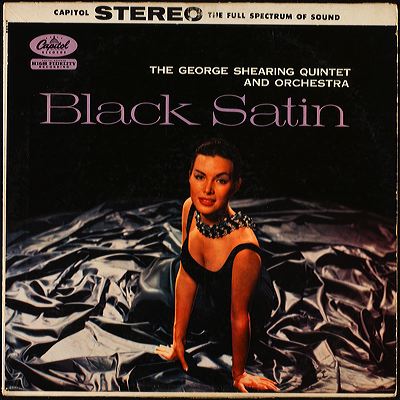 Beauty Trouble
Diesmal bestimmen unter anderem die Covers den Klang: die Galerie an zeitlosen wie auch eher temporären Schönheiten zieren Schallplatten von Jackie Gleason bis Stock, Hausen & Walkman, und natürlich von den zahlreichen namenlosen Combos, Orchestern und Solisten, die weniger mit ihrer Musik als mit einem spektakulären Plattencover zum Kauf überreden wollten.
Daher Songs von Music to Watch Girls by zu Une Very Stylish Fille im speziellen Soundmuseum-Mix.
Also vielleicht mit:
Dimitri from Paris, Sacrebleu, Une very stylish fille; Frank Chacksfield and his orchestra, Alice blue gown; The Harmonicats, Dolls dolls dolls; Warne Marsh, You are too beautiful, 1957; Kraftwerk, Das Model, 1978; Bennie Wallace Plays Monk, Ugly beauty, 1981; Ennio Morricone, The sunday woman - The most beautiful wife, 1975; Henri Mancini, Pure gold, Moon river (Breakfest at Tiffanys);
Hildegard Knef, Er war der Schönste in der Klasse; John Coltrane, Im old fashioned; The Ornette Coleman Quartet, Beauty is a rare thing, 1960; Joni Mitchell, The dry cleaner from des moines, 1979; P.M. Dawn, Paper doll, The beautiful, 1991;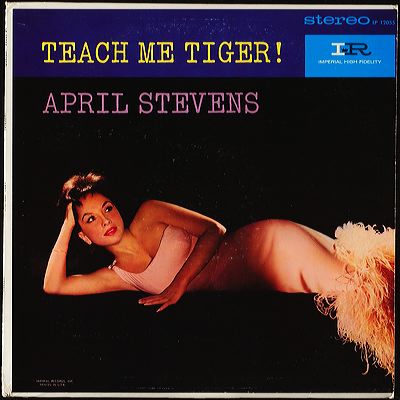 Weather Report, The pursuit of the woman with the feathered hat, 1978;
Chet Baker Sings, I'm old fashioned, 1958; The great concert of Charles Mingus, Orange was the color of her dress, Spohisticated lady, 1964; Hildegard Knef, Ich zieh mich an und langsam aus, 1967; Some like it hot, Park Avenue Fantasy; Allan Caddy
Orchestra & Singers, Too Beautiful To Last; Trude von Ostheim, Modetänze - leicht gemacht; 1965; Otto Reutter, Der Blusenkauf, 1930;
Ryuichi Sakamoto, Beauty; Fred Astaire, Top Hat, The way you look tonight 1935 ; Blondie, Autoamerican, 1980; Bonzo Dog Doo Dah Band, Narzissus; George Clinton, Hey good lookin, 1986; Jim Hall live!, The way you look tonight, 1975; Wes Montgomery, The way you look tonight, 1960;
Robert Mitchum, Beauty is only skin deep, 1957; Ray Conniff and his orchestra, Lovely to look at; Ravi Harris & The Prophets, Path of the blazing sarong, 1997; Frank Sinatra, Violets for your furs; The Ozark Mountain Daredevils, Jackie Blue ...