Textarchiv
exotica

politics

klangkunst

spirits

science

words & voices

geräusche

regions

film

radiokunst

electronics

other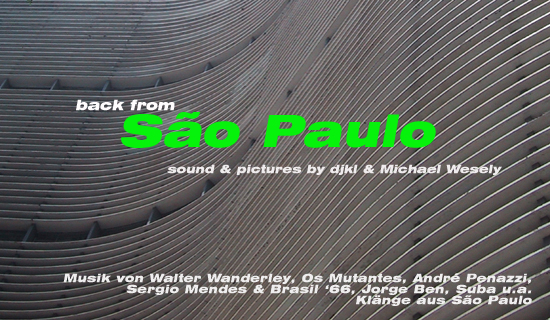 Brasilien, damit verbindet man hierzulande unwillkürlich vor allem zweierlei: Karneval und Samba. Von ersterem ist bei uns heute keine Rede, von Samba schon eher, wenn auch nicht in der normalerweise bei uns gehörten kruden und maschinenartigen Form.
Easy-listening Liebhaber haben schon länger die filigraneren Formen dieses Musikstils entdeckt, das meiste der interessanteren Beispiele davon fand jedoch nur selten seinen Weg aus Brasilien hinaus. Loungeartige Versionen des heute sehr gesuchten Walter Wanderley oder des so gut wie vergessenen Andre Penazzi werden ebenso zu hören sein wie einige interessante und poppigere Versionen aus den 70ern. Daneben alte Vorgänger aus den 30ern und 40ern, Bossa Nova Heroes nicht nur aus Brasilien, und die genialen Mutantes (60er), inzwischen auch über Brasilien hinaus bekannt für ihren skurrilen Britpop meets Brasil.
Oder eine merkwürdige Samba goes Beatles Platte, brasilianischen Jazz z.B. mit dem Zimbo Trio, neues von Tom Zé und Suba. Es fehlt auch nicht eine Gesangseinlage von Pelé und alle Tore der Weltmeisterelf von 1970. Eine wie immer höchst subjektive wie nicht auf Vollständigkeit bedachte Kompilation des Temporären Klangmuseums.
Klänge aus São Paulo
Auch zu hören am heutigen Abend: eine Klangreise durch São Paulo. Marktplätze, Strassenkreuzungen, ein Friedhof, die Rennstrecke Interlagos, ein Fussballstadion waren einige der Sationen auf der Suche nach dem Klang dieser Stadt. Entstanden sind diese Aufnahmen im Rahmen des Projektes Metropolis von Michael wesely und tkm-dj Kalle Laar.

go to the Metropolis Picture-Disc project by Michael Wesely & Kalle Laar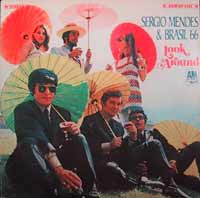 Sergio Mendes
In den 60ern war er überaus erfolgreich mit seinen Brasil'66, und prägte den brasilianischen Einschlag in der Popmusik: Sergio Mendes. Noch heute kennt fast jeder diesen besonderen Klang, meist aber ohne seinen Erfinder nennen zu können. In den besten Momenten entstanden kleine Kunststücke eines filigran-fragilen Sounds, der scheinbar immer wierder gefahr lief, in sich zusammen zu stürzen oder einfach zu verschwenden, um dann doch dem jeweiligen Stück diesen besonderen Touch zu verpassen. Selbst einiges von den späteren eher seichten Lps ist durchaus eine Neuentdeckung wert. Unermüdlich war Sergio Mendes noch letztes Jahr als Brasil 2000 unterwegs.

The tremendously successful Brasil '66 albums do not paint a complete picture of pianist-composer Sergio Mendes. Before the first A&M album presented by Herb Alpert, there were albums on Atlantic, Capitol, and certainly other labels in Brasil. During and after Brasil '66 (and similar groups named for subsequent years), there were various solo albums, collaborations, and some excellent debut albums produced by Sergio Mendes. The Brasil '66 albums are the career highlight, however.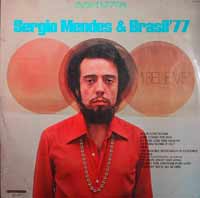 Brasil '66 created some of the most enduringly hip, pop music of the 1960s. Improbable elements included foreign language (some songs), jazz, group vocals, and piano. The first album in this style features acclaimed singer Wanda de Sah with the Sergio Mendes Trio, guitarist Rosinha de Valença, and Bud Shank. The first three Brasil '66 albums amplified all the strengths of Brasil '65, hitting upon an ideal combination of talent, strong and peppier material, and Herb Alpert's production sense.
Fortunately it was Jorge Ben's "Mais Que Nada" that became their smash hit. The group also covered Joao Donato's "The Frog" as well as compositions by other heavyweights such as Joao Gilberto. Early covers of such mod standards as "Going Out of My Head" and "Spanish Flea" gave way to pleasant but gratuitous covers of numerous Beatles tunes. Sergio Mendes compositions and arrangements became fewer as organist Dave Grusin increasingly took over those duties. Most of their later albums are dismissable, except Stillness for its fantastic, funky version of "For What It's Worth" and "Celebration of the Sunrise?

Playlist
Laurindo Almeida & the Bossa Nova All Stars, Ole! Bossa nova!
Waldyr Azevedo, Um cavaquinho acontece, 1960
Les Baxter, Brazil now
Jorge Ben, A tábula de esmeralda, 1974
Jorge Ben, Àfrica Brasil, 1976
Jorge Ben, Benjor, 1989
Olavo Bilac, Bilac em Hi-fi, Poemas e sonetos de Olavo Bilac
Luiz Bonfa, Luiz Bonfa toca melodias das Americas, Para você dançar
Luiz Bonfa, Violão bôemio
Bossa cuca nova, Revisited classics, 1998
The Dave Brubeck quartet, Bossa nova USA, 1963
Miguel Caló, Samba em tempo de tango, Miguel Caló visita São Paulo
Cascatinha & Inhana, Sucessos inesquecíveis, 1987
Gigliola Cinquetti com Trio Los Panchos
Cordel de Fogo Encantando, Cordel de Fogo Encantando
Gal Costa, India, 1973
Tony de Matos, Lado a lado
Djalma Ferreira e seus Milionários do Ritmo, No Rio de Janeiro
Vera Figueiredo, Vera Figueiredo, 1989
Stan Getz - Joao Gilberto, Getz/Gilberto featuring Antonio Carlos Jobim, 1963
Léo Jordan e seu Conjunto, O balanço chegou
Gonzalo Labrada Trio, Imagens do Brasil
Ladico e seu Conjunto, Posto 1 ao posto 6
Orquestra Ed Maciel, Fervendo, 1978
Angela Maria, Acervo especial
Angela Maria, Quando os maestros se encontram - Quando os astros se encontram, 1958-1975
Sergio Mendes, Sergio Mendes' favourite things, 1968
Sergio Mendes & Brasil '66, Crystal illusions, 1969
Sergio Mendes & Brasil '66, Equinox, 1969
Sergio Mendes & Brasil '66, Fool on the hill, 1969
Sergio Mendes & Brasil '77, I believe, 1974
Os Mutantes, Mutantes, 1969
Os Mutantes, Os Mutantes, 1968
Nelsinho e sua Orquestra, Brazilian beat vol.3, 1968
Nonô e seu ritmo, Nonô e seu ritmo
Clara Nunes, Clara Nunes, 1974
Os Batuqueiros a As Mulatas, Mete bronca batuqueiro, 1972
O mundo de Pelé, 1969
Andre Penazzi, Organ jazz samba percussion, 1957
Andre Penazzi, Órgão samba percussão, vol.2 & vol.4, 1968
Léo Peracchi e sua Orquestra, Fiesta de boleros

Pernambuco e sua Orquestra, Baile de samba, 1963
Dilermando Pinheiro, Viva o samba
Renato e seus Blue Caps, 1963
Cobrinha - Capitão - Mariano, Mágoas de carreiro, 1939-1948
Conjunto Tupy - Trio T.B.T. - Bando da Lua, Cadê Vira-mundo, 1931-1935
Déo - Almirante - Moreiro da Silva - J.B. de Carvalho,
Quem é o tal, 1933-1937
Dilú Mello - Stelinha Egg, Lá na serra, 1938-1955
Elisa Coelho - Sylvio Caldas - Jesy Barbosa - Breno Ferreira,
No rancho fundo, 1929-1933
Gastão Formenti - Alda Verona - Otília Amorim - Raul Roulien,
Sempre sonhando, 1930-1934
Paraguassu - Abigail A.Parecis - Januário de Oliveira - Stefana de Macedo, Terna Saudade, 1929-1936
Os Ritimistas Brasileiros, Batucada fantastica
Rodolfo, Rodolfo, 1972
Samba soul 70!
Os Sambacanas, Sucessos da juventude em tempo de samba, 1970
Secos & Molhados, Secos & Molhados, 1973
Roberto Silva, Descendo o morro #3 & #4, 1960-1961
Roberto Silva, Descendo o morro & Descendo o morro #2, 1970-1975
Zoot Sims, New beat bossa nova, means the samba swings, 1962
Elza Soares, Elza Soares y Bossa Nova
Suba, 2001
A copa é nossa 70, 1958 e 1962, 1970.
Transmissões diretas da rádio bandeirantes, 1970
The Tides, The Best of the Bossa Nova
Trio Irakitan, Los samba que nos gusta cantar
Walter Wanderley, Rain forest
Walter Wanderley, Samba!
Walter Wanderley, Samba é samba, 1963
Walter Wanderley, Successos dançantes em ritmo de romance,
Com Walter Wanderley e seu conjunto, 1962
Walter Wanderley, The return of the original
Tom Zé, Com defeita fabricacão - Fabrication defect, 1998
Zimbo Trio, Zimbo Trio