Textarchiv
exotica

politics

klangkunst

spirits

science

words & voices

geräusche

regions

film

radiokunst

electronics

other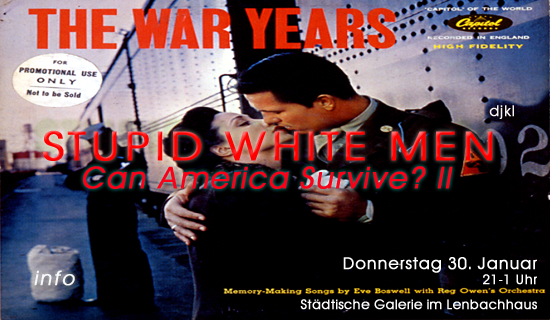 Marked for Death. Can America Survive? war der Titel einer Veranstaltung des Temporären Klangmuseums vor einigen Jahren, bei der es in erster Linie um die individuelle Ausformung von Gewalt ging. Genau zwei Tage nachdem wir das Thema festgelegt hatten, schockierten uns die Ereignisse an der Columbine Highschool und verliehen der Veranstaltung ungewollte Aktualität. Heute wünschen wir es uns umgekehrt: dass die Aktualität mit dem Irakkrieg unser Thema möglichst nicht einholen mag.
Als Reverenz an Michael Moore, Autor des unbedingt sehenswerten Films Bowling for Columbine, nannten wir das kommende Klangmuseum nach seinem neuen Buch Stupid White Men, das auch in einer deutschen Hörbuchfassung beim Antje Kunstmann Verlag vorliegt, gesprochen von Peter Lohmeyer.
Heute also ein verhalten optimistisches, wütendes und fröhliches Klangmuseum mit Aufnahmen nicht nur zu Krieg und Frieden und (nicht aussschliesslich) rund um Amerika.
recommended:
www.michaelmoore.com
Noam Chomsky Analyzes the Bushies.By Anthony DiMaggio, The Indy, December 6, 2002

---
TKM - Cover of the Week: Zwei Beispiele aus dem Genre Militärschallplatten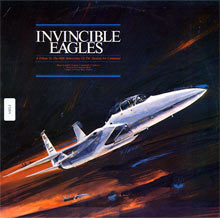 1: Invincible Eagles. A tribute to the 40th anniversary of the Tactical Air Command.
Mit einer eigens hierfür zusammengestellten und vom Orchester des Kommandos aufgeführten Art von Oratorium über die Geschichte dieser Militäreinheit.
Diese Platte wurde vom Militär herausgegeben und kam nicht in den Handel.
2: Super Fighter USAF F-15 Eagle, King Record K25P-129, 1981
Recorded Nov. 3rd to 7th 1980 at USAF Kadena Air Base Okinawa, Japan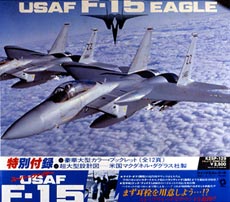 Die amerikanischen Militärbasen auf Okinawa in Japan sind seit der Besetzung der Insel nach dem 2.Weltkrieg in Betrieb. Und seither ein ständiger Anlass des Unfriedens, für den größten Teil der Bevölkerung stellen die USA nach wie vor eine Besatzungsmacht dar, die sich hier jahrzehntelang relativ ungeniert auf japanischem Boden breitmachte.
Sinn und Zweck dieser Platte ist nicht leicht zu verstehen, eine Art Werbekampagne für den neuesten Kampfbomber, dessen Schönheit und Kraft mit markigen Worten beschrieben werden. Danach hört man nur noch Düsengejaule und kaum verständliche Funkkommunikation. Kaum vorstellbar, daß sich die lärmgeplagten Einwohner Okinawas davon beeindrucken ließen. Erschienen ist diese Platte auf dem japanischen Major-Label und Quasi-Monopolisten King Records, und war auch nur in Japan zu haben. Vom ganzen Erscheinungsbild her wirkt dieses Dokument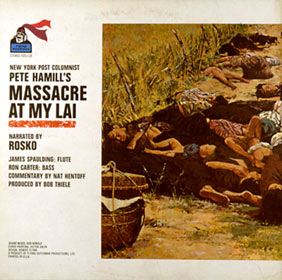 aber eher wie eine offizielle US-Airforce-Ausgabe.
Mit Begleitmaterial wie Poster u.a.


Aus der Serie Meine Lieblingsplatte, heute: Pete Hamill's Massacre at My Lai. Flying Dutchman FDS-118, 1970
Der Ausdruck 'Lieblingsplatte' ist hier ein wenig fehl am Platz. Hier geht es eher um ein beeindruckendes Dokument, eine Schallplatte, eigentlich in erster Linie eine Popware, als unmittelbares Medium der Auseinandersetzung mit aktueller Politik.
Die Plattenfirma Flying Dutchman wollte so etwas wie ein Audio Quarterly ins Leben rufen, a selection of particularily penetrating reports, columns, accounts that get to the core of what is happening to and in America.
Pete Hamills Kolumnen in der Washington Post bildeten die Grundlage der Texte, gesprochen von Rosko, begleitet von James Spaulding, flute und Ron Carter, bass.
Aus der Serie Der merkwürdige Tonträger, heute: Entspannungsübungen mit der Bundeswehr


Die CD 'Entspannungsübungen' gab es für 24,95 Mark bei der Informations- und Medienzentrale der Bundeswehr, Codewort Entspannungsübungen

Später als DVD: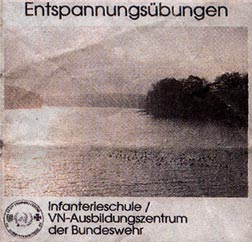 Alltag und Einsatz
Entspannungsübungen.
Herausgeber: Innere Führung Bundeswehr, ca. 2006
Aus dem Klangmuseums-Archiv zum Thema (Auswahl):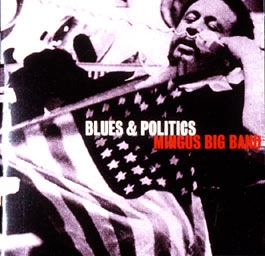 Afghanistan et Iran, 'Attan' - Pashtun warriors dance - Assalam aleikum Africa, vol.I, Progressive & popular music from West Africa, La guerre et la paix ne sont pas pareilles, Live in peace - Amiri Baraka, New music - new poetry, The last revolutianary (for Abbie Hoffman) - Calypso pioneers 1912-1937, War declaration - Ornette Coleman, In all languages, Peace warriors - Aaron Copland, Lincoln portrait (1942) - Jayne Cortez, Maintain control, 1986 - Born in DDR, Tom Terror und das Beil, Weltkampf , Naiv. Sag mir wo Du stehst - Duke Ellington, Money jungle, 1962 - Kathleen Ferrier, Green. I will lay me down in peace -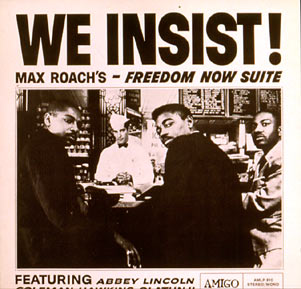 Galliano , A joyful noise unto the creator, New world order, Prince of peace, 1992 - Les i, Dans le hémisphere nord, Bombe - Jazz for people who hate jazz, Charlie Barnet. Comanche war dance - Ricardo Juarez and his Orchestra, Cha cha militaire - Kronos Quartet, Kevin Volans: White man sleeps - Ken McIntyre Trio, Chasing the sun, Got ma mind set on freedom - Charles Mingus, Changes one, Remember Rockefeller at Attica, 1974 - Moskau - Berlin, 1985 - Van Dyke Parks, Tokyo Rose, America, Yankee go home, Trade war - John Patton, Accent on the blues, Freedom jazz dance, 1969 - Musik aus Studio Bonn, Polhitparade, We do not want to fight. Gerhard Schröder, 1972 - Helmut Qualtinger liest 'Mein Kampf', 1973 - Helmut Qualtinger, Die letzten Tage der Menschheit - Terry Riley, Salome. Dances for peace, 1989 - The Sun City Girls, Horse cock phepner, Voice of america, C.I.A.man (Tila Kupferberg), 1987 - Sun Ra, Nuclear war, 1982 - 1933 - 1945 - I can hear it now, vol.I, A chronicle of the war and the years of crisis told in the authentic sounds and voices - Lord Buckley, Bad rapping of the Marquis de Sade, H bomb - McKinley Dirksen, Gallant men - Stories of the american adventure, told by Senator Everett McKinley Dirksen - Interview with Dr. Margret Mead, On social anthropology, american character, primitive societies, 1959 - Iwo Jima, Combat actualities, Broadcasts of the bloodiest battle of World War II and of the fighting U.S.Marines - Robert F. Kennedy, A tribute, with the voices of Robert Kennedy, Lyndon Johnson, Edward Kennedy - The triumph of man, as presented at the New York World's Fair 1964-1965 by the Travellers Insurance Company, 1964 - Thad Jones & Mel Lewis live in Munich, A' that's freedom - Mort Sahl, Iconoclast: The Future Lies Ahead - Komsomol's Favourite Songs, Youth starts with these songs - The Last Poets, This is madness, White man's got a god complex, 1971 - The american dream told by the men and women who lived it, Einwanderer und deren Kinder erzählen von ihren Erfahrungen -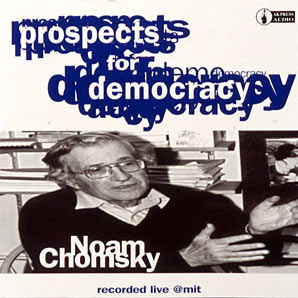 Max Greger, Trimm und Tanz dich fit, Freedom come, freedom go, 1973 - Tom Lehrer, That was the year that was, National brotherhood week, Send the marines, 1965 - 1964Mae West, Great balls of fire, How Miss West won world peace - Dr. Dre, 2001, Ed-ucation, 1999 - Eric Burdon, declares 'WAR - 'Charlie Manna, Manna live!, More comedy by Charlie Manna, Dial h for hate - Malcolm X speaking, Violence and non violence - Johnny Cash, Ring of fire, Peace in the valley - John McLaughlin, Extrapolation, Peace piece, 1972 - Signale zur Warnung und Alarmierung, Zivil Verteidigung, DDR ca 1965 - Reverend Lonnie Farris,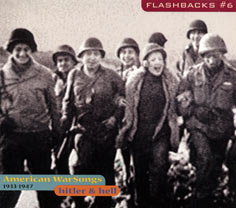 Peace in the valley, 1962 -John Lennon Plastic Ono Band, Shaved fish, Give peace a chance, Power to the people, Imagine, 1969-1974 - Talking Heads, Fear of music, Life during wartime, 1979 - Tipsy, El bombo atomico, 1996 - More saucy stories from Pat Cooper, Draft time, 1958 - Frank Chacksfield and his Orchestra, Close your eyes, The call to army - The joy of living, Nelson Riddle presents twelve danceable gently swinging reasons why it's great to be alive! - Bruce Haack, Hush little robot, War - Dr. Jack van Impe, Marked for death, Can America survive? - Dr. Martin Luther King jr., In the struggle for freedom and human dignity - Romano Guardini, Der unvollständige Mensch und die Macht - Kardinal Faulhaber, Vox temporis - vox dei, Zwei Predigten aus dem Jahre 1941 - Eddie Harris, Is it in, It's war, 1974 - Bernd Alois Zimmermann, Die Soldaten. Oper in vier Akten nach Jakob Lenz (1965) - Flashbacks Vol. 6: Hitler & Hell, American War Songs (Trikont) ...