Arbeiten (Auswahl)



2015
2014
2013
2012
2011
2010
2009

Vinyl Culture, München
Embedded Art. AdK Berlin

2006-2008
2003-2005

Das Kunst oder Unfall Büro, Wien
Artworks: Klangraum Nebel - Antiatlas-Gebirge Marokko - scroll down for english text
Im Antiatlas-Gebirge wurde im Oktober 2018 das weltgrößte Nebelfänger-Terrain mit 31 "CloudFisher" eröffnet, das 16 Berberdörfer (ca. 1.150 Einwohner) erstmalig mit ausreichend Trinkwasser versorgen. Die Nebelkollektoren ernten an Spitzentagen bis zu 80.000 Liter Wasser in WHO Trinkwasser Qualität !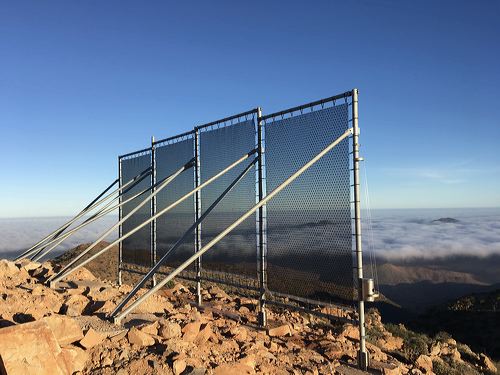 Im Rahmen dieses Einsatzes installiert Kalle Aldis Laar, mit Unterstützung des Industriedesigners und Entwicklers des CloudFisher Peter Trautwein, einen Klangkörper, aus dem - durch Wind und Wetter betrieben - eine ungewöhnliche Komposition vor Ort entstehen wird, beeinflusst durch die klanglichen Eigenschaften der lokalen Athmosphäre.
Der Wind fegt mit bis zu 100 km pro Stunde durch die Netze und durch die am Gerüst angebrachte Klanginstallationen. Der Klangraum Nebel ist nicht nur das erste Kunstprojekt seiner Art, das an einem der ungewöhnlichsten und vor allem trockensten Orte der Welt, dem Mount Boutmezguida, dem Tor zur Westsahara auf die Bedeutung des Nebels als wertvolle Ressource aufmerksam machen möchte.
Die langfristig angelegte Aktion versteht sich auch (nach Calling the Glacier) als ein Beitrag für die Kommunikation, in der es u.a. um die Bewusstmachung der fortschreitenden Erderwärmung und die damit einhergehenden Auswirkungen auf die Zivilisation und Umwelt geht. Laut dem jüngstem Weltbankbericht werden sich bis 2050 als Folge des Klimawandels die Ursachen für Klimaflüchtlinge drastisch verschärfen, ein Fakt, der uns alle etwas angeht.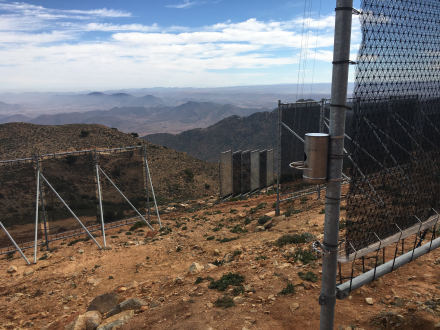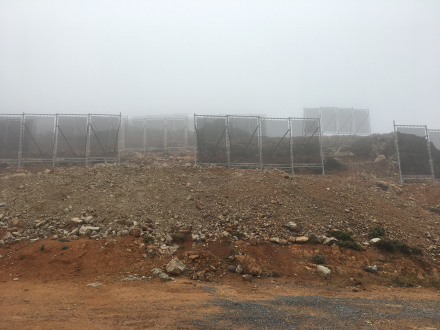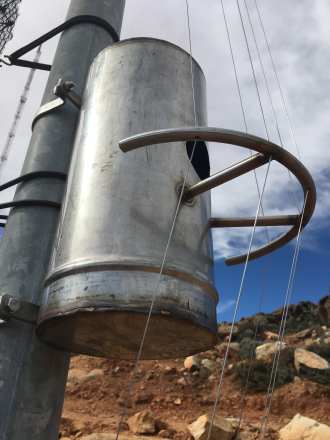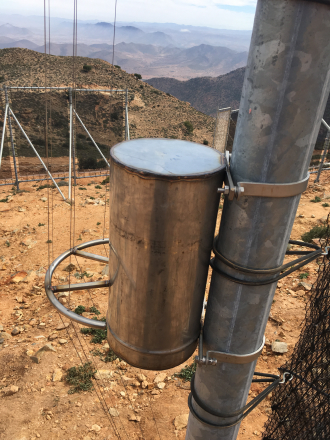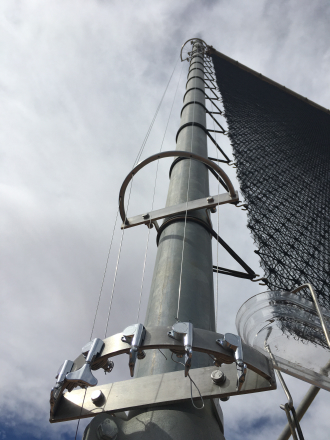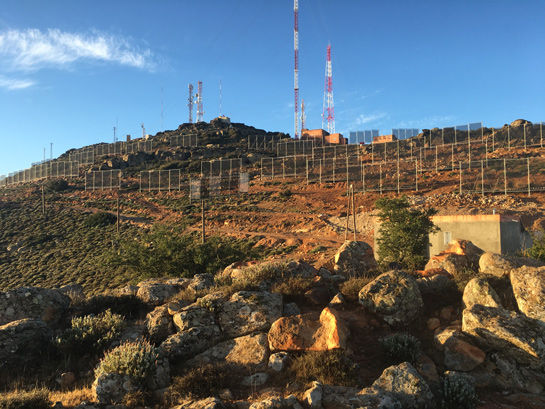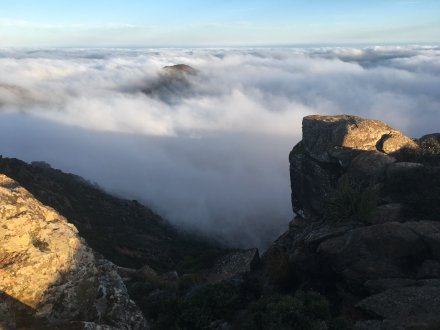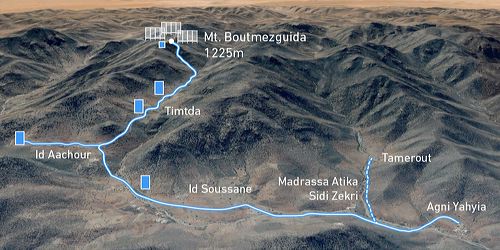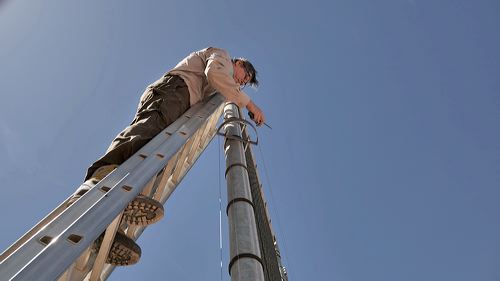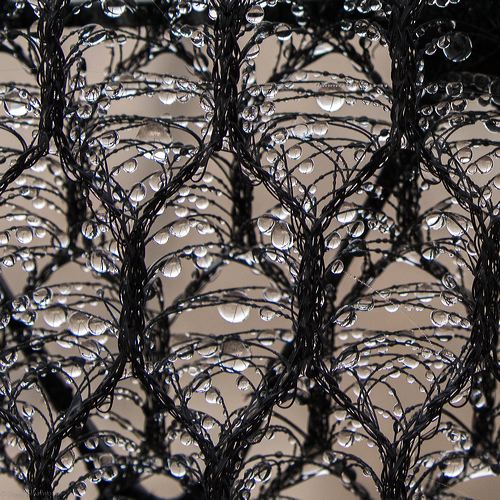 Ongoing global warming, extreme weather conditions, the threat of livelihoods and habitats are undeniable. According to the latest report by the World Bank, the causes of climate refugees will increase dramatically by 2050 as a result of climate change - a fact that concerns us all.
The CloudFisher concept - interacting with art and culture
Human coexistence is a cultural achievement. According to recent studies concerning development assistance, any involvement not responding and referring to the cultural environment is usually doomed to failure in the long term. Against this background, Serafine Lindemann and Peter Trautwein, together with the Water Foundation, designed a conceptual framework to combine various uses of the CloudFisher with cultural and artistic projects to convey a more complex perception of the ongoing global warming and the associated effects on civilization and the environment.
The Fog-Sound project
The construction of a sounding body merging both aesthetically and functionally with the framework of the fog nets was the vision right from the start. Sound artist Kalle A. Laar, supported by industrial designer and cloudfisher developer Peter Trautwein, constructed various wind harps, operated by wind and weather sounding an unusual and ever-changing on-site composition, merging with the sounds of the surroundings: the sound Mount Boutmezguida, the cloudfisher, the fog.
This sound work is not only the first of its kind to draw attention to the importance of the fog as a valuable resource at the Sahara Gate in one of the driest places in the world. It should also provide a cultural framework for educational campaigns and public relations locally.
The project on Mount Boutmezguida is located in the Aït Baamrane area in the Anti-Atlas mountains near the coastal town of Sidi Ifni. The population is largely made up of Berber communities, especially women, children and elderly people: the men are often absent for months at a time, looking for work in the towns. In recent years, the region has been increasingly threatened by drought; the desert has spread and the water table is steadily sinking. However, there is still a plentiful supply of atmospheric water vapour from the clouds and fog around Mount Boutmezguida.
The cloudfisher project in Morocco is the world's largest collector park, it was officially openeed in October 2018. 31 "CloudFishers" supply 16 villages in the valleys around Boutmezguida and a school are now provided with drinking water in WHO quality, with more to come.
The CloudFisher collects drinking water from fog without requiring energy. It is the first standard fog collector in the world resisting to wind speeds of up to 120 km/h. It is quickly installed, does not require additional energy and is extremely low-maintenance. All used materials are food safe.
16 October 2018 saw the official opening ceremony for the fog net installation on Mount Boutmezguida in the Anti-Atlas mountains. On each day with fog, it harvests roughly 35,000 litres of drinking water, and a great deal more on exceptional days. This is changing the lives of the people who live on the mountain, and giving them new prospects.
Klangraum Nebel a Project by Kalle Aldis Laar, Serafine Lindemann, curator, artcircolo.de
in Partnerschaft und mit Unterstützung von / partners and supporters
pilotraum01 e.V
Peter Trautwein/ aqualonis
WasserStiftung
Stiftung Dar Si Hmad
Die CloudFisher Anlage auf dem Mount Boutmezguida ist ein Projekt der WasserStiftung und der Stiftung Dar Si Hmad, unterstützt durch das BMZ (Bundesministerium für wirtschaftliche Zusammenarbeit und Entwicklung), die Münchener Rück Stiftung, den DVGW (Deutscher Verein des Gas- und Wasserfaches) und umgesetzt durch die aqualonis GmbH
⇒ CloudFisher
.