Arbeiten (Auswahl)


2013
2012
2011
2010
2009

Vinyl Culture, München
Embedded Art. AdK Berlin

2006-2008
2003-2005

Das Kunst oder Unfall Büro, Wien
Artworks: You are invited. A Landscape for John Cage & Dick Higgins
Installation commissioned by the Zentrum für Kunst und Medientechnologie - ZKM Karlsruhe for: Soundart - Klang als Medium der Kunst / Sound as a medium for art. Curated by Peter Weibel and Julia Gerlach, 17. 3. 2012 – 6. 1. 2013
82 turntables, 87 record covers and records from The Temporary Soundmuseum Collection, 150 anonymised records, loudspeakers.
Part of the records have been acquired by The Temporary Soundmuseum from the Dick Higgins estate, kindly made possible by Alison Knowles. On special display: Alan Hovhaness, John Cage: Piano Compositions, played by Maro Ajemian, Disc Company of America 3057/8, Set of two 78rpm Lps, 1947. Side D: John Cage. Amores I & IV, For prepared piano.
This is the first recording of a piece by John Cage and in all probability the first record of "new music".
Ben Vautier: TOTAL – Disque de musique. Signed by Vautier as Dick Higgins, Nice, édité par l'artiste, 1963
R. Murray Schafer: Hear the sounds go round – Dédicace. Flexidisc, Arcana editions Sound sheet, Recorded 1976-82, dedicated to Dick Higgins 'With best wishes from Murray 1983'. Record covers from the The Temporary Soundmuseum / The Dick Higgins Collection.
______________Links ZKM:>>>>Soundart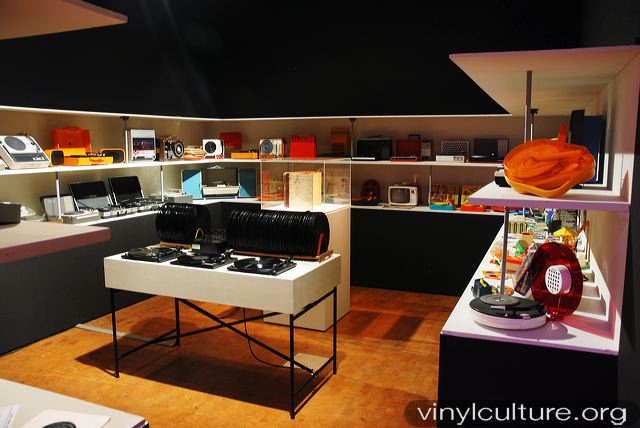 Die Installation spielt mit der Geschichte der Beziehung von Schallplatte und Kunst. Der Besucher betritt einen Raum, hört die Amores I und IV von John Cage und sieht an der Wand in Vitrinen zahlreiche Plattenspieler aus den 1950er bis 1990er Jahren. In der Mitte des Raumes steht ein Tisch mit drei Plattenspielern und einer Auswahl von Schallplatten. Ebenfalls in der Mitte, als zentraler Punkt steht eine Vitrine, in der die erste Aufnahme von John Cage auf Schallplatte in einer fast schrein-artigen Situation zu sehen ist.
Ausserhalb des Raumes befinden sich zwei unterschiedlich große Wände mit Schallplattencovers.
Die Arbeit nimmt zum Teil Bezug auf den 100 Geburtstag von John Cage, indem sie die erste und überaus seltene Schallplattenausgabe eine seiner Kompositionen feiert, die Amores I & IV for Prepared Piano auf der 1947 erschienen Doppel-Schellackplatte Alan Hovhaness, John Cage: Piano Compositions, interpretiert von der Pianistin Maro Ajemian (Disc Company of America 3057/8). Diese Aufnahme ist im Raum zu hören.
Die Besucher sind eingeladen, sich von der Situation anregen zu lassen, einen eigenen Mix hinzu zu fügen und mit Cage und den Amores zu spielen. Dazu stehen auf einem Tisch im Raum drei frei zugängliche Plattenspieler und ein dj-Mischer, daneben eine zufällige Auswahl an 150 Schallplatten. Diese sind ohne Covers und mit geschwärztem Label anonymisiert. Der Besucher kann somit nicht zuerst seinen musikalischen Vorlieben folgen, sondern muss sich direkt auf die Klänge einlassen und an der landscape mitarbeiten, ohne vorher bereits ein Geschmacksurteil zu fällen.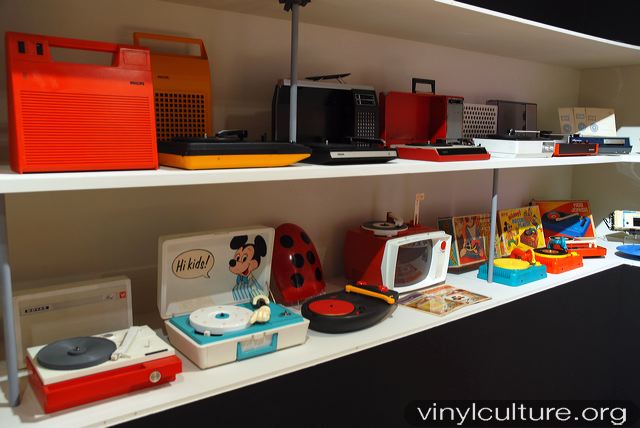 ---
You are invited. Short film (vimeo), 16 min 15
---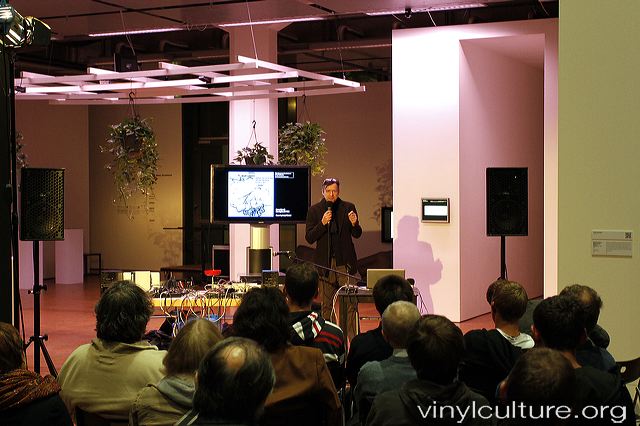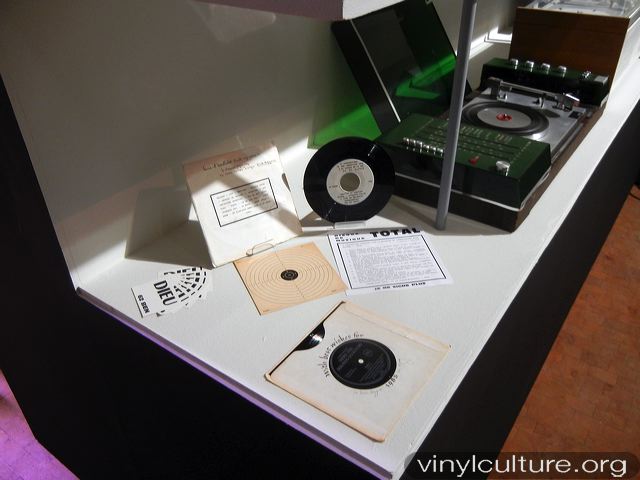 additional pictures
The John Cage recording of Amores 1947